Snowdon Hike in support of Manchester MIND
19th December 2022
This year, the TU have established an ongoing partnership with local charitable heroes, Manchester MIND. The work that they do in mental health support and promotion is close to a lot of our hearts, and we consider ourselves fortunate to be able to support them where possible. Although they operate under the national MIND banner, Manchester MIND are a completely independent charity and so rely on fundraising through various channels to deliver their services.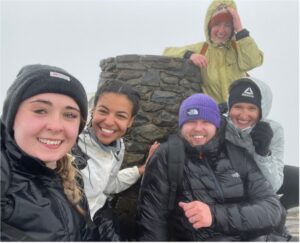 Living the TU Values
At the TU we're sincere in encouraging our team to spend time giving back to local causes, and building this partnership enables us to both volunteer and contribute through fundraising activity to Manchester MIND's vital work. You can read about our value and corporate social responsibility priorities here.
In May, we were given the opportunity to join their collection day in Manchester city centre. This involved striking up conversations with members of the public and promoting Manchester MIND's offering while seeking small donations to enable them to continue their tireless efforts. It was an incredibly rewarding day, but also demonstrative of Manchester MIND's commitment to engaging people about mental health.
Why are we supporting a Mental Health charity?
During the pandemic, mental health issues were exacerbated throughout the population. A 2021 report commissioned by the national MIND organisation found that two thirds of adults and more than two thirds of young people with mental health problems said that their mental health worsened since the first national lockdown. In addition, one in four adults and over one in six young people experienced mental distress for the first time during the pandemic. These figures are really staggering, and Manchester MIND's services are more in demand than ever.
Our Snowdon Challenge
A group from the TU set off to climb Mount Snowdon via the Llanberis path, in aid of Manchester MIND. As well as providing a brilliant opportunity for fundraising, it felt like a good chance to get outdoors and achieve something collectively as a team that we wouldn't often get to do. For a lot of us, walking acted as a real outlet during lockdown whether alone or in company. As well as the obvious physical health benefits it carries, there's lots of evidence to show that walking is beneficial in tackling elevated stress levels and anxiety.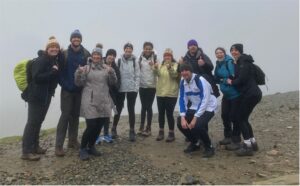 On a grey October morning in North Wales, the 12 of us set off from the village of Llanberis in good spirits. The initial ascent had a few challenges, but we soon hit our stride and reached the Halfway House in good time. It felt great to have three 'generations' of TU Graduates on the walk, with Conor and Martha representing our 2022 intake. Admittedly, they set a fair pace.
We began to approach a low-lying fog, but weather conditions remained fairly stable as we climbed up the set of steep rocky steps. At this point we passed Llyn Du'r Arddu, the beautiful blue lake famous in traditional Celtric folklore. As we reached the top of 'Allt Moses', we were completely encased by fog and this made the subsequent climb particularly difficult. We passed under the railway arch and marked this by grabbing a quick team photo by the ridge.
It was at this point that the wind and rain really turned against us, but there was much stoicism amongst the team as we continued towards our goal. The next forty or so minutes were the most challenging of the walk – the complete lack of visibility meant that it was impossible to know how close we were to reaching the peak, and there was more than one false summit along the way. This was discouraging at times but we kept going along the path, the team looking out for one another, until we approached the final rocky ascent.
After a 3 hour climb, we made it to the highest point of Snowdon. The view from the top wasn't fantastic but the sense of achievement was huge. We took some photos and after a few moments of taking it in, we began the descent. There was an incredibly positive and supportive atmosphere amongst the team throughout the hike, motivated by the most deserving of causes. We made it back to the village of Llanberis at the end of a 5 and a half hour round trip, and the warmth offered by a change of clothes and a car was welcomed by all.
What we achieved
The team raised over £1,000 for Manchester MIND, which will benefit three of their services: Food for All; their Children and Young People's Service, and their Community Wellbeing Services. These initiatives provide so much support for the people of Manchester - we're incredibly proud to have made a small but important contribution, and are grateful to all of our sponsors for making this possible. We're excited to see how our partnership with Manchester MIND continues to develop, and you can find out more about their amazing work here or via any of their social channels below: