Cheshire & Merseyside Physiological Measurements Network Echocardiography Recovery Plan
16th November 2023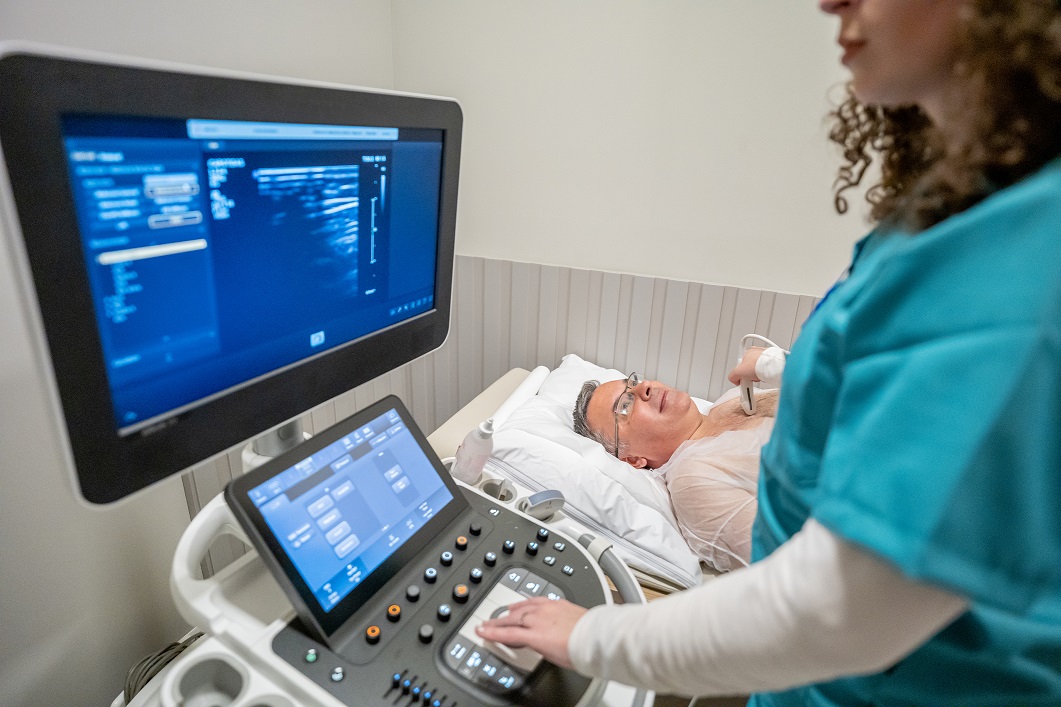 The NHS Transformation Unit were contracted to support the Physiological Measurements Network in Cheshire and Merseyside (C&M), with a primary focus on improving Echocardiography services.
We worked across C&M to design and deliver the Echocardiography Recovery Plan for the C&M ICS Diagnostics Programme. The core aim was to standardise processes and maximise productivity to address the patient backlog and support system recovery. The recovery plan also set out more medium- and longer-term solutions relating to digital and workforce issues.
The Challenge
Nationally, when compared with pre-pandemic figures, there had been a significant increase in the number of patients waiting longer than 6 weeks for an Echocardiogram (Echo), a decrease in Echo activity and an increase in the variance of service quality for patients in England. In C&M Diagnostics, Echocardiography was outlined as a particularly challenged service.
An Echo is an ultrasound scan of the heart and surrounding blood vessels to assess the blood flow and pumping chambers of the heart. An Echo is an important diagnostic test to detect conditions including heart failure, a heart attack or cardiomyopathy. An echocardiogram can also help your doctors decide on the best treatment for these conditions.
Our support was required to develop and deliver the multi-staged Echo Recovery Plan within C&M, with the objective of standardising the quality, availability, equity and effectiveness of echo provision across the region and ultimately to reduce waiting times for all patients requiring this critical test.
Our Approach
We worked closely with the C&M Diagnostics Programme Director to provide extensive programme management and oversight to ensure the successful delivery of the Echo Recovery Plan, including:
Working in partnership with the nine Trusts delivering Echos to cleanse, validate and improve their data reporting, to provide stronger intelligence and support decision making.
Co-developing a custom dashboard to demonstrate the breakdown of the number of weeks patients were waiting for their Echos.
Supporting the Trusts to adhere to national British Society of Echocardiography guidance by providing patients with 40/45-minute appointment slots for routine Echos, improving efficiency and supporting waiting list reduction.
Facilitating dynamic discussions regarding the provision and receipt of mutual aid between Trusts.
In achieving the above, we also monitored and enabled meaningful improvements to the systems DMO1 position, which is reported and validated nationally. The DMO1 report provides data diagnostic waiting times and activity for key diagnostic tests including Echos.
Enabling the provision of £250,000 support funding across the system, which facilitated additional echo tests to be delivered in areas of greatest patient need.
The Outcome
We successfully delivered against all elements of the system's Echo Recovery Plan. This was evidenced in the November DMO1 data, which achieved a post-covid record for patients in C&M receiving an Echo within 6 weeks. The Echo Recovery Plan was presented at a National Diagnostics and Echocardiology Learning Workshop, at the request of the NHSE Physiological Measurements Programme Leads. Following this event, C&M was highlighted as a region of best practice, and one that other regions should utilise for their own learning and improvements.
In doing so, we also developed and sustained genuinely effective systems and mechanisms of support for physiological measurement services across the system, creating lasting improvements for patients and staff.
'The TU were able to bring together a number of strands of work to form an all-encompassing recovery plan. Putting the plan into action has resulted in a very positive difference for a large number of patients in our region who were awaiting this critical test.'  
Tracey Cole, Cheshire and Merseyside Diagnostics Programme Director.
'The TU were invaluable with their support for our organisations during an extremely difficult and challenging time with national issues surrounding extremely lengthy and unacceptable Echocardiography waits.
The TU team were key to keeping the momentum of the project and ensuring the planned successful outcome for our patients was achieved within the set time frame.
Their communication and engagement throughout the project was exemplary and their friendly, professionalism and knowledge encouraged participation and a willingness to deliver and succeed from all parties involved, resulting in a project recognised nationally within healthcare Science forums for its success.'
Gina Rogers, Chair of Cheshire and Merseyside Cardiac Physiology Network.